Since you're coming here why not develop your skills on this language commonly called "Língua de Camões" - language of Camões. For the ones who don't know about him, don't worry, by the time your Erasmus ends all his books and stories will be in the tip of your tongue. If you don't like to wait here's what the reliable Wikipedia has to say:
"Luís Vaz de Camões (Portuguese pronunciation: [luˈiʒ ˈvaʒ dɨ kaˈmõjʃ]; sometimes rendered in English as Camoens or Camoëns (e.g. byByron in English Bards and Scotch Reviewers),                    /ˈkæm oʊˌənz/; c. 1524 or 1525 – 20 June [O.S. 10 June] 1580), is consideredPortugal's and the                   Portuguese language's greatest poet. His mastery of verse has been compared to that of Shakespeare, Vondel,Homer, Virgil and Dante. He wrote a considerable amount of lyrical poetry                             and drama but is best remembered for his epic work Os Lusíadas (The Lusiads). His collection of                       poetry The Parnasum of Luís de Camões was lost in his lifetime. The influence of his masterpiece                              "Os Lusíadas" is so profound that Portuguese is called the "language of Camões"."
The majority of the young and adult people speak english and is fond to help you in case of a doubt. Senior people not so much. Learning a language is a beautiful thing.
Well, that's why we are here. Because a regular "Olá, como está?" won't be enough for a daily conversation, ESN Lisboa has partnered with Language Craft, a well-known Language School that cooperates with a lot of Univiersities, to offer the best promotion and conditions any school has yet to offer for new students. Learning Portuguese has never been this much fun and their experienced teachers will make sure to make you an expert on this beautiful language. For more info feel free to contact us via partnerships@esnlisboa.org.  

So, what is LanguageCraft?
 
LanguageCraft is a language institute which teaches over 35 different languages (general and professional oriented modules) and which specializes in the teaching of Portuguese as a Foreign Language.
ESN Lisboa and LanguageCraft have been working together for the past 7 years with the main goal of bringing to all the Erasmus students the possibility of having high quality language training at an affordable price.


What do they offer and what do you get with your ESNcard?
 
Because they know you need to prepare yourself for the upcoming semester, they have prepared special intensive courses. Please, check the following link - schedule information

With your ESNcard you get:
1 – A 30-hour Portuguese as a Foreign Language course for 149€, plus 15€ of a book, instead of 209€.
2 – All final exams and certificates for all courses you take with us within a period of one year are included in the price.
Levels? Can I do an assessment interview?
Of course! As our courses are aligned with the Common European Framework of Reference for Languages (CEFR), you have a wide range of levels which start with A1 (for beginners) and finish with C2 (Upper-Advanced). If you wish to know your level, contact us to schedule a free assessment interview with one of our teachers.
What about extensive courses?
The extensive courses will start at the beginning of February and take 30 hours to conclude. Usually, classes are held on Mondays & Wednesdays or Tuesdays & Thursdays. The schedule may vary according to the needs of our students. Do you have Individual courses and/or small groups? Yes, we do! Our individual courses will help you set your own schedule (at what time, how many days and hours per week). Also, you'll be able to go through the contents of a 30-hour group course in only 20 hours of individual classes. Regarding small groups, if you have some friends interested in doing a course together, we can schedule a meeting, set the timetable and start the classes as soon as you wish. These groups have a minimum of 3 participants. For more information on prices, please, contact us at Portuguese@languagecraft.pt
I need to improve my English skills. What do you offer?
English courses have a duration of 45 hours (2 weekly sessions of 1 hour and 30 minutes each). Classes will start in the beginning of March. Check this link for more information - schedule information. The regular price is 265€. With your ESNcard you'll only pay 195€.
How can I sign in?
– You can pre-register at the form down below and pay a 10€ fee at our office or by paypal (which will be deducted from the total price of the course) in order to book a place in one of their classes; – Go to LanguageCraft to finish your enrolment and start your course! Make the Pre-signup and save a spot as these courses sell out almost instantly. Fill the form on the bottom of the page and proceed to the payment via paypal or back at our office.
The upcoming courses will start according with the schedule information with a discount on both Portuguese and English classes.
You can find more informations about the conditions, lecture's periods and other informations about the partnership by accessing ESNcard.org: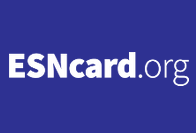 Fill the form below to pre-signup!!