In Lisbon there are mainly 4 types of transportation:
Metro
Bus/Tram
Train
Boat
Upon arriving in Lisbon you will have the need to aquire immediatly a Viva Card (view Website for more info) in order to charge it monthly. The normal expectancy period for receiving the card is 7,00€ and it will be delivered with 10  working days. You can also make an urgent request (1 working day) with the cost of 12,00€. You can make the urgent request in one of the stations above:
Marques de Pombal metro station (near the blue line exit);
Campo Grande metro station (downstairs, near the NOS building entrance);
Saldanha/Arco do Cego (yeollow building near ther garden).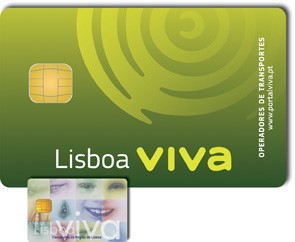 This will allow you to charge it with the two most important monthly passes available within the city, costing 35,00€ and 40,00€. (Again visit the Website again for more info on the subject).
Metro
The metro system in Lisbon is widely spread and highly efficient. It is the fatest way to travel within the city limits and it consists in 4 lines: 
Green: From Telheiras to Cais do Sodré
Yellow: From Odivelas to Rato
Blue: From Amadora Este to Santa Apolónia
Red: From São Sebastião to Aeroporto (Airport)
See the map above:
(The maps are available for download at the bottom ot the page)
When arriving from the Airport this is probably the best option to get to the city center demonstrating a good price/quality/speed ratio. There is Free Wi-fi on all the stations via On-fi.
In general, the main housing and hostels locations are located within the gree line, yellow line and blue line after Sete Rios in direction to Santa Apolónia.
Bus/Tram
They also serve the Airport and they cover a bigger area than the metro. Everywhere you go around Lisbon you will find a Bus stop. The bus system is also divided, this time by 5 colour.
They work by day and by night (awesome after a night out), although the night buses from Bairro Alto and Cais do Sodré come awfully crowded and you may not get a seat if you don't make it early to the queue.
Train
Best option to travel outside the city limits, for example if you're planning a Sintra Trip which we highly recommend and which we also have two on the beggining of each semester. It is also the best option besides Rede de Expressos (National Bus Company) to travel all over Portugal. CP (meaning Comboios de Portugal) has a lot of discounts for your people adding up to the schedule early discounts.
Boats
They also connect Lisbon to its suburbs and show a beautiful of the city through the river. There are 5 routes:
Terreiro do Paço - Barreiro
Cacilhas - Cais do Sodré
Seixal - Cais do Sodré
Terreiro do Paço - Montijo
Trafaria - Belém